Posted on September 1, 2012
1. Talk about it with people you think are masters. I have yet to meet anyone, no matter how established and amazing, who hasn't at some point in their life felt like a fraud. Find someone whose work or life you admire greatly and ask them about it. Or, talk more to your peers about it. Realizing we aren't alone in this is extraordinarily healing.
2. Invite your inner critic in and have a conversation. Our inner critics/editors/hecklers can help us out, although more often they just beat us down and get in the way. So, give yours a name and a face. Next time he/she/it shows up, invite it in. Let your inner critic know that you appreciate that it's trying to keep you out of trouble but that you're good for now. Give it a cookie and send it on its way. Or, if it gets too rowdy, ask the bouncer to throw it out of the club. (On a personal note, when my totally insane Inner Lunatic of Perfectionism appears, Bill Murray from MEATBALLS shows up and screams "It just doesn't matter!" at the Lunatic, over and over, until even the Lunatic has to laugh. This makes me ridiculously happy.)
3. Remind yourself you are good. Because you are.
4. Do something just for the play of it. Pick something creative that has nothing to do with your work or life's mission. Then do it 15 minutes a day just for fun. For example, I have a writer friend who colors in a coloring book for 15 minutes a day. There are no rules about how to color or about making it look like "art.,: and since it's not her life's passion (and income), she isn't as attached to how "good" of a coloring artist she is. It's just to get the creativity flowing without that dang inner critic talking at you too much.
5.  Stop reading Facebook so much. I'm so into this one right now that I wrote an entire article on it below.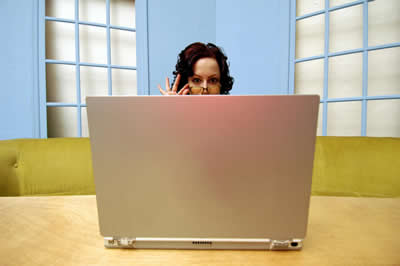 Facebook & the Fraud Factor
Before I begin, let me make this clear: I am  not a social media naysayer. In fact, I love Facebook. It's a fabulous way to connect with people you don't get to see or talk to very often, and a great way to see what other people are up to. It's also my main source of news: if it's important, someone will post about it on their page.
That said, I am currently on a self-imposed hiatus from Facebook and all other social media. Why? Not because it's a time-suck, although of course it can be. No, it's because Facebook, as much as I love it, is a "best-of" reel of people's lives. People mostly post their successes, the parts of their lives that look really, really fabulous. It's not because any of us are bragging, but because that's usually what we want to share with others. Even when we post about our sadnesses and bad days, it's still somehow sanitized and a little shiny.
Usually I like this "best-of" reel. And I'm also very aware of it. But I do find that, when I'm questioning my worth or when things aren't going as I'd hoped and I'm feeling frustrated or down about it, what I start to do is compare my life to everyone else's best-ofs. And, as you can imagine, this leads to nothing good.
If you're going through a fraud moment, consider signing off for a while. A day, a week, a month…do what feels right for you. I've been off about 2 weeks and will probably take another couple weeks. And when I come back on, I'm rearranging my use of Facebook so it serves me better.
Sharing our lives through Facebook can be wonderful and inspiring and bring us closer. But in those times where it doesn't, it's really okay to step away for a while. Like me, you might even love it.